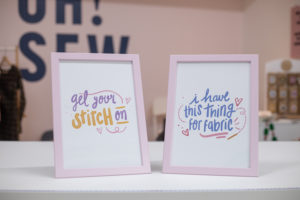 I am really excited to introduce to you, my new sewing themed wall prints! There are four different designs, 2 sewing quotes and 2 stitching notions ones.
The idea for these prints came about when I was decorating my shop and was looking for some fun artwork to put on the walls and couldn't find exactly what I was looking for. This made me think that maybe other people might have the same problem and are looking for ways to brighten up their sewing spaces. That's when I decided to find two illustrators who would have the skills that I definitely don't have to make this a reality. Once I had found two lovely and talented ladies the fun part was designing them. I gave them the basic idea of what I was looking for and they came up with the designs and we worked on tweaking them until they were perfect, and I am so happy with the final result. I really enjoyed this collaborative process and getting the opportunity to support other ladies making a living from their passion!
The 'Get Your Stitch On' print was the first print that we made and is meant to be a little motivational quote. It's for those times when you have lost your 'sewjo' and are putting off finishing that dress or sewing those buttons on to complete that dress. I like to think that it is for those times when you can't decide whether to sew or do housework and need reminded that sometimes sewing is just what is needed!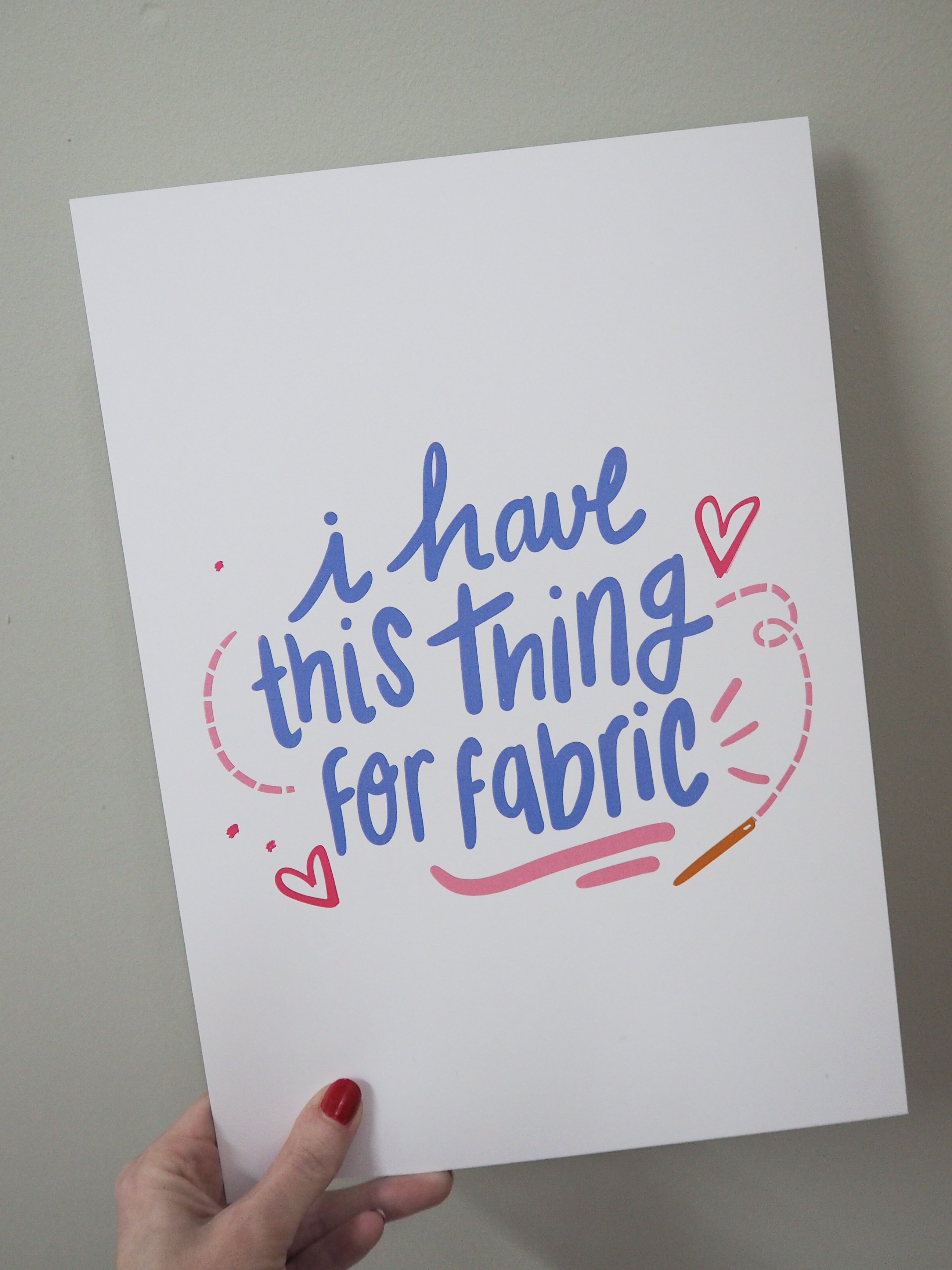 I started a fabric shop because I definitely have a 'thing for fabric' and since opening, I have come to realise that I am not alone in that! A lot of people when they are shopping for fabric can't help but stroke fabric as they shop. Also, let's face it, most of us sewists have a large stash that we can't help but keep adding to! That is where the idea for the 'I have this thing for fabric' print came from, it is for all those fellow fabric lovers out there! It works perfectly paired with the 'Get your stitch on' print as well.
My final two prints are the 'Sewing machine' print and the 'Nifty notions' print. The sewing machine is reminiscent of the old vintage machines, it is printed onto a pale pink background and I especially love the floral design on it. The 'Nifty Notions' print is made up of a collection of all the things we as sewists use on a daily basis. I especially love the thread snips and the mini safety pins. It is also printed onto a pale pink background and is A4 in size. Like with the quotes, when I designed these, I wanted them to pair well with each other so that they could be hung next to each other.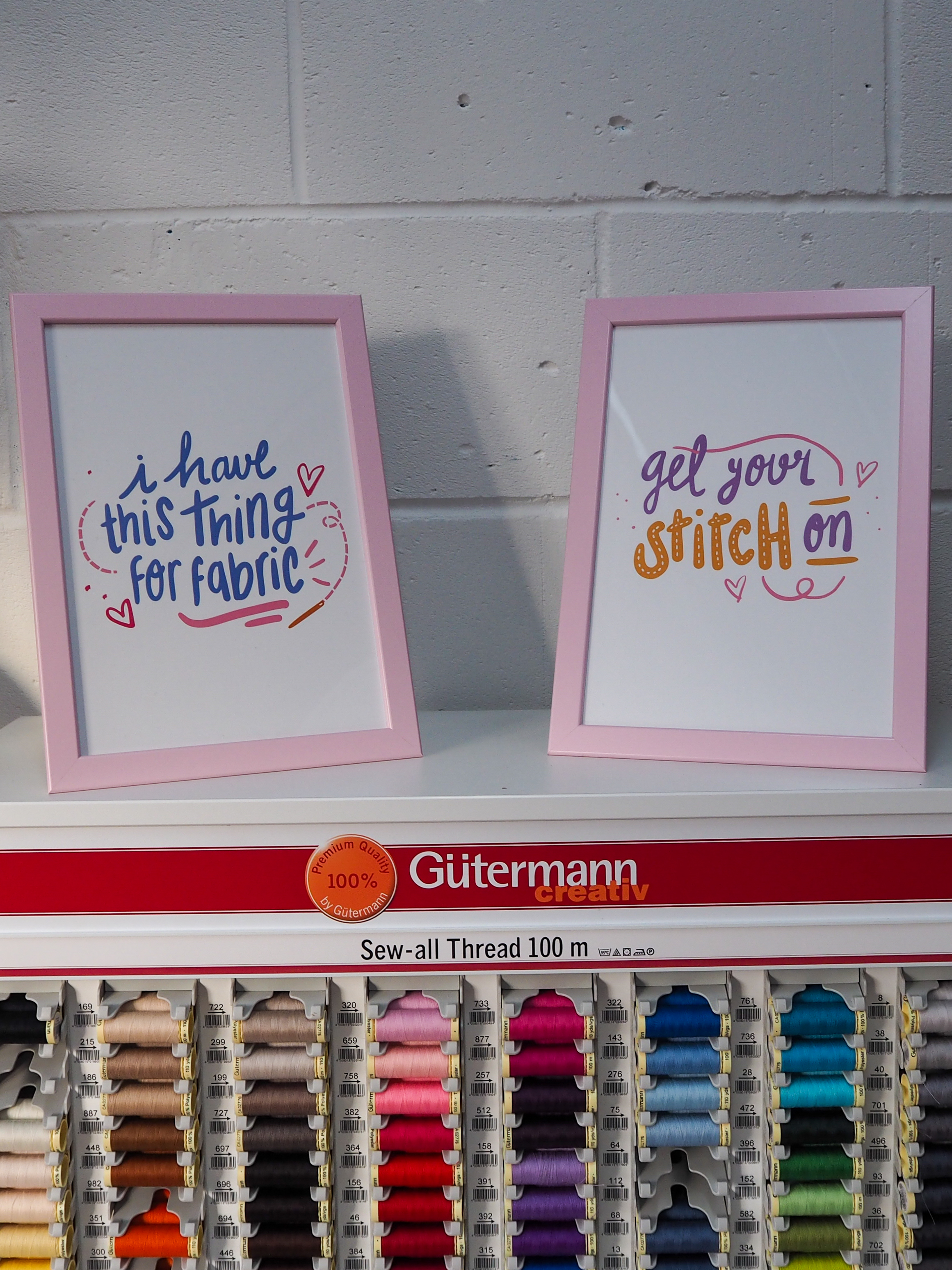 I really hope you love these prints as much as I do. As a small business. it was important to me to use other small businesses in creating these. As I said above, I chose two really lovely and talented freelance illustrators and worked with them in designing these. I also used a small family run printing company which is local to me who were helpful in advising me in the best way to produce these. So, if you buy one of these prints, you are not only supporting my small business but also a few others as well which is something I always try to do in how I run my business as a whole.