Confession, I always get that little bit more excited about a Tilly and the Buttons release than I do about any other pattern company. Maybe that's because I have made more Tilly patterns than any other, but I think it is just because they are the closest to my everyday style than any other company. So, of course when I heard there was a new pattern being released, I rushed over to the website immediately and I think it was love at first sight! The Indigo is a classic smock shape, that comes in both a top version and a dress version. The top has a dipped hem that ends at around your hip area and the dress is knee length with a straight hem and pockets. The bodice is shaped with bust darts and there is an empire waistline with a gathered skirt attached. You also have two sleeve options, a straight sleeve that is bracelet length or a three-quarter sleeve with a flounce attached.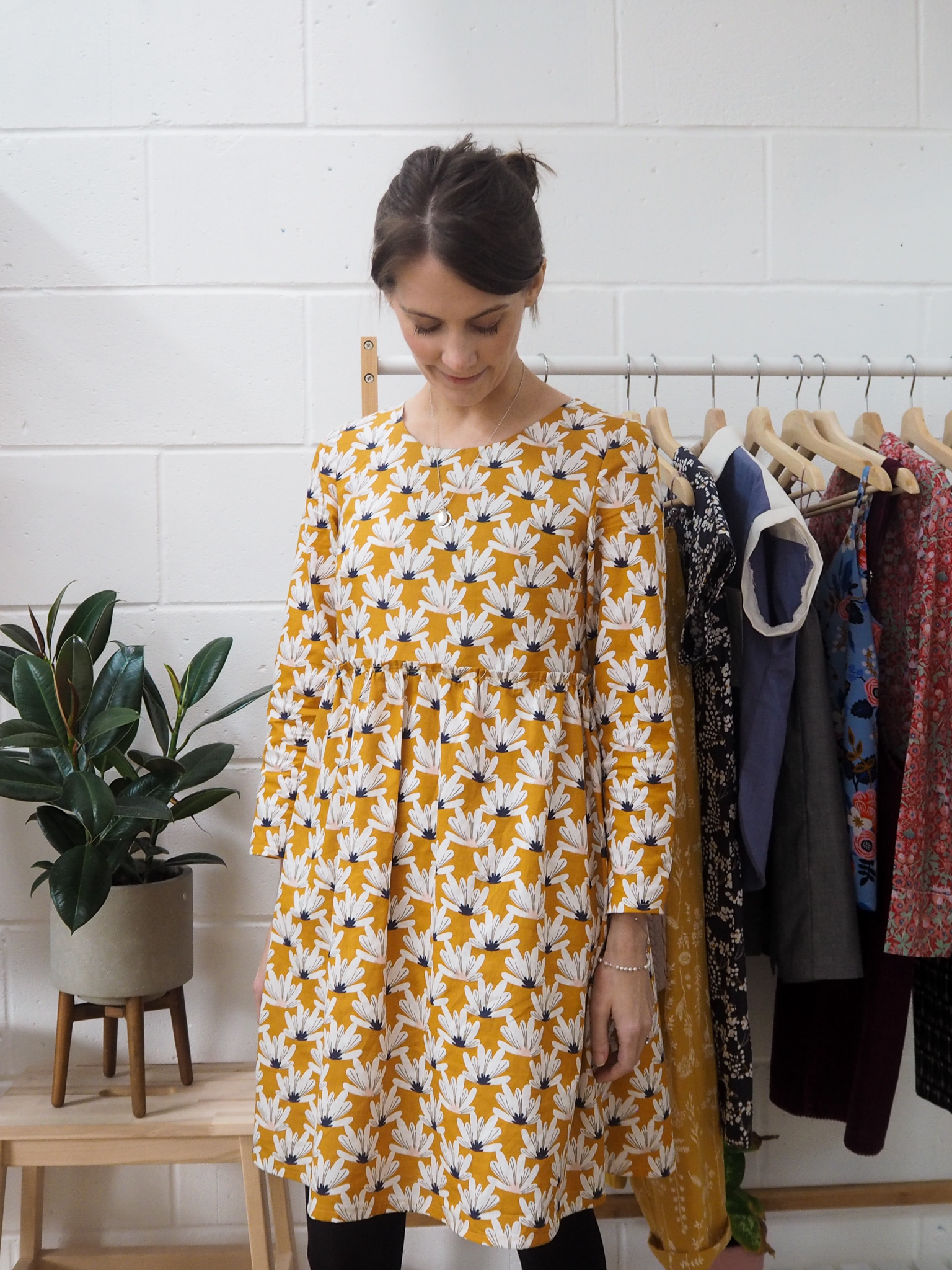 I think within an hour of the postman delivering the pattern, I was cutting it out of the fabric. The fabric I choose was a beautiful mustard French made cotton with adorable white flowers printed onto it. As I have made a number of Tilly and the Buttons patterns, I know what adjustments I usually make to her patterns and went ahead and did the same with the Indigo. The first thing I did was to shorten the bodice by 1/2 an inch, like I say I normally do this and I think it is a perfect fit on me. Then I shortened the skirt pieces by 2 inches. I am 5ft 2inches for reference and it sits just above my knee which is where I would want it. The only other change I made was to not add in the pockets! I know a lot of people will be horrified by this because everybody loves pockets, but I find sometimes pockets can affect the shape of a dress and I usually leave them out! Plus, I never leave the house without a bag so the need for pockets isn't really necessary for me.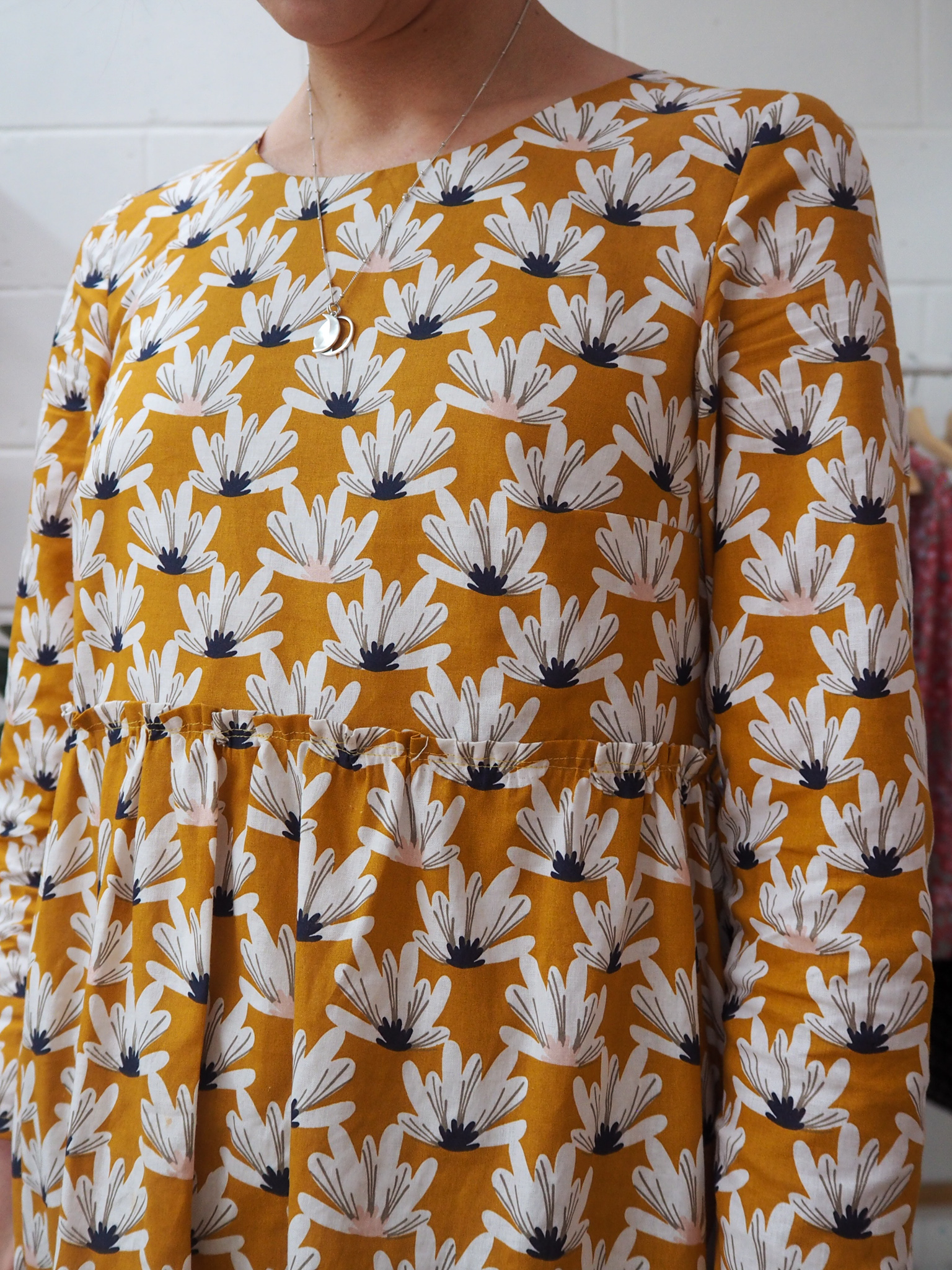 A really lovely feature of the Indigo is the option to have an exposed frill at the waist seam. I initially wasn't going to add this in, but I am so glad that I did because it adds such a nice detail to it. If I could give any advice it would be to listen to Tilly when she says to use a contrasting colour for the gathers because I didn't and it was very hard to unpick all the stitches, and there is a lot of unpicking involved!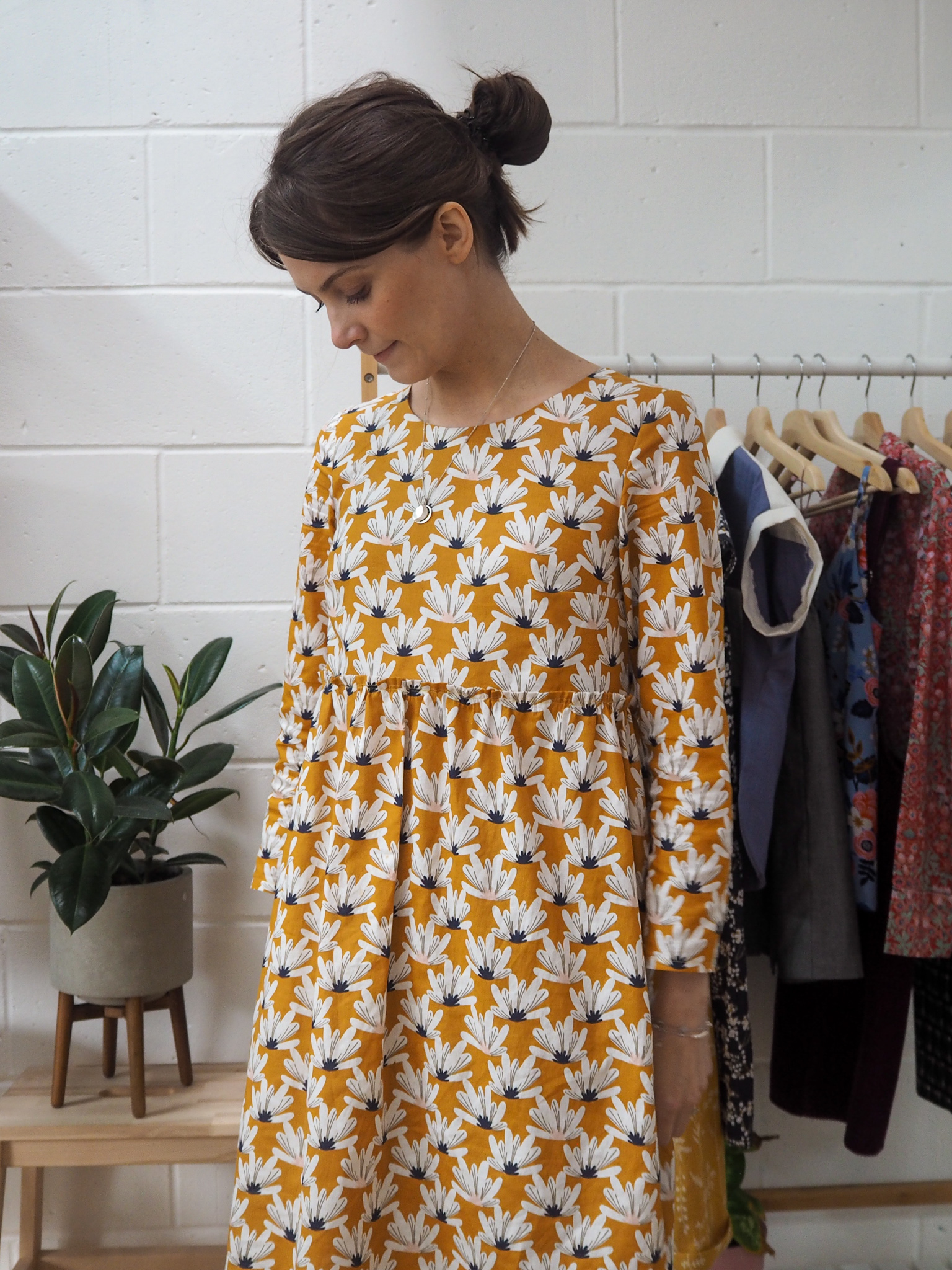 This dress came together relatively quickly, I sewed it over two days in between customers in the shop, the most time-consuming part is definitely the frill and unpicking! Then I wore it three days in a row! I would recommend this pattern to a confident beginner as it doesn't have any fiddly fastenings and as always the instructions are easy to follow. I have planned another one and might have to stop myself or  I could end up with a wardrobe full of them!